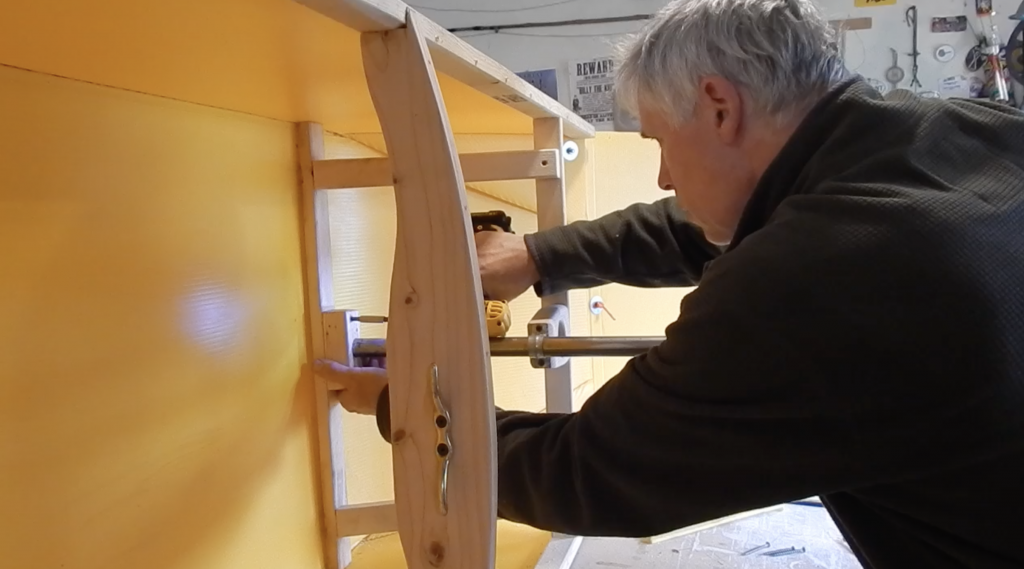 Unlike the 6mm thick hulls of Sparky, the Speed Boat or the Box Boat, The Lil Dipper was made using more common 4mm fluted plastic.
I installed grooved (tables saw) inexpensive 1×2″ pine boards along the edges to fortify the hull. Others were added to support the mast and to act as foot supports.
Two larger diagonal bulkheads were also added on each end of the cockpit. Here I'm adding support blocks for a Spinnaker mast.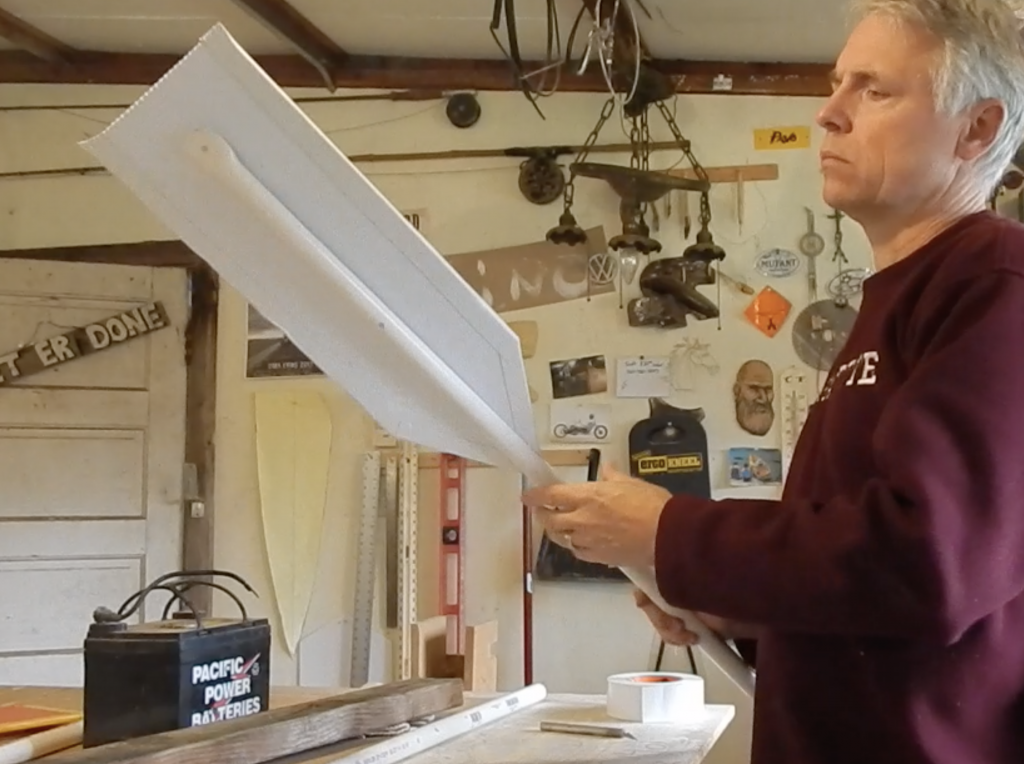 The Kayak style oars were made using PVC, scraps of fluted plastic, 2″ white gorilla duct tape and a few small bolts to hold the blades to the split (table saw) PVC pipe.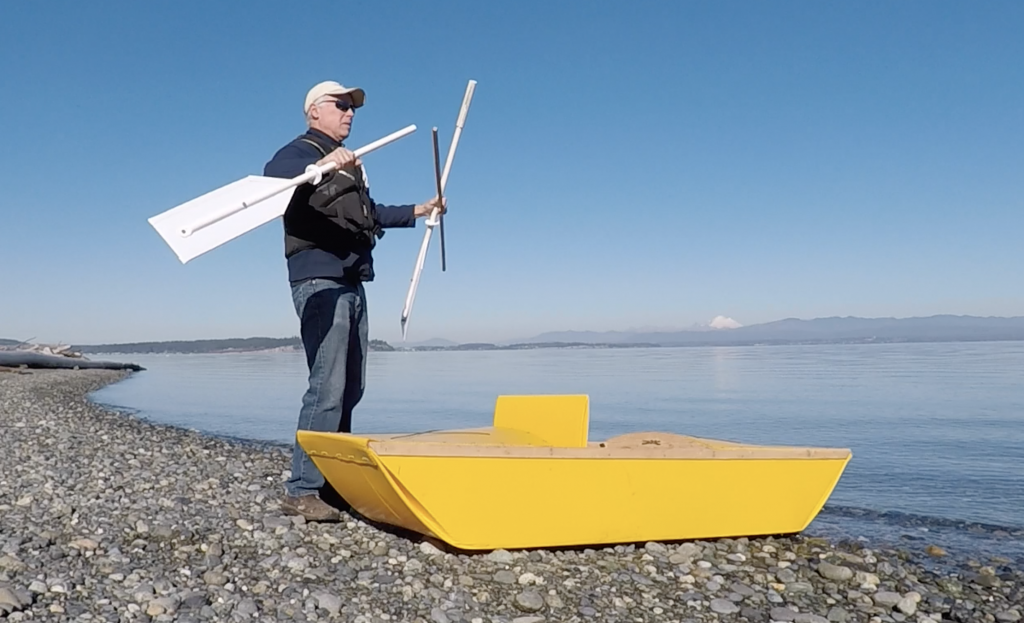 To keep the shaft from flexing, I insert a tight-fitting whittled down  3/4″ square wood stick. All together this cheap paddle weights the same as my $100 kayak paddle.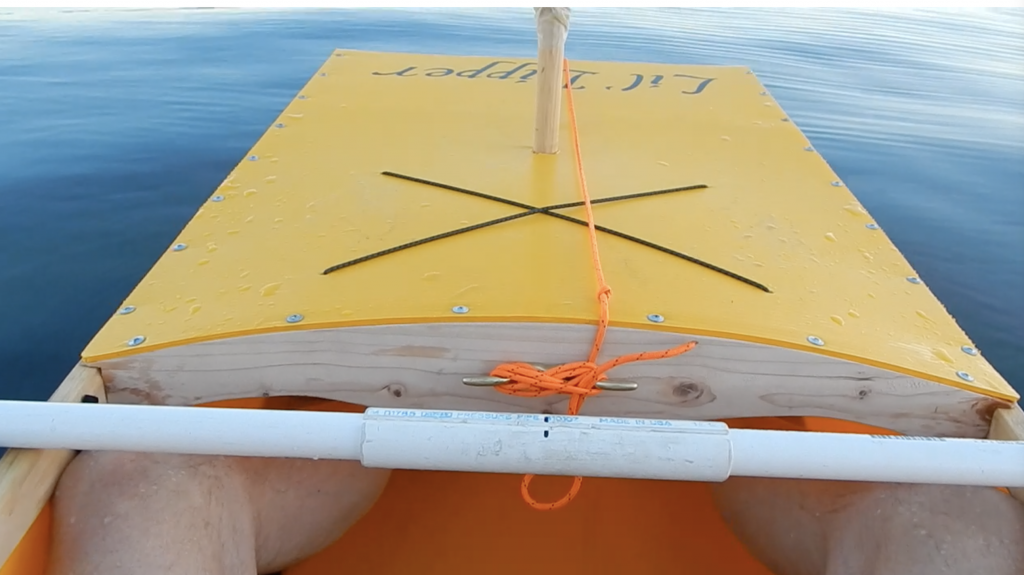 I use a bigger piece of split PVC to join the two halves together.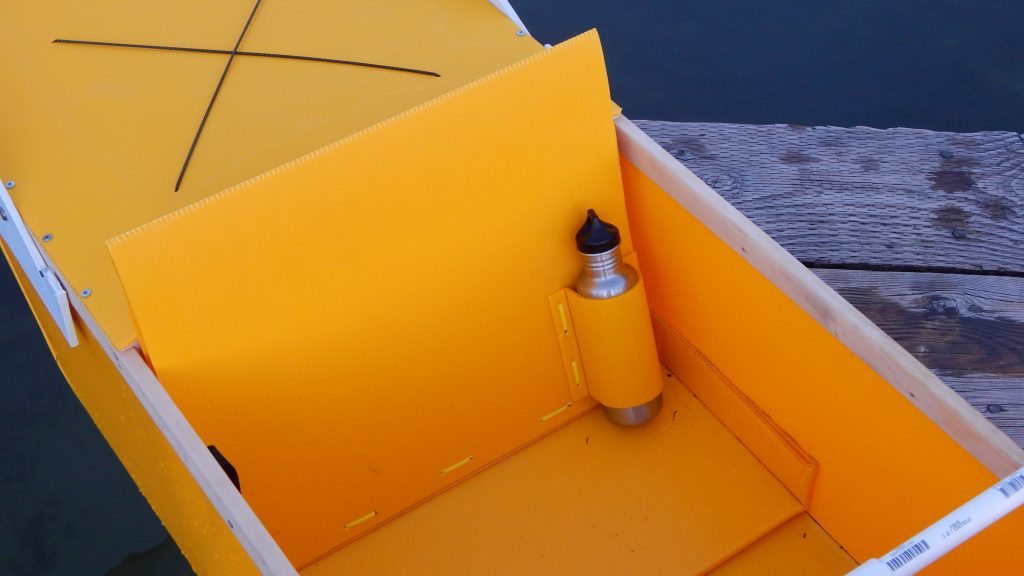 The seat is doubled up fluted plastic. The tight bend on the water-bottle holder is made by cutting down every-other flute on the back side of the arc.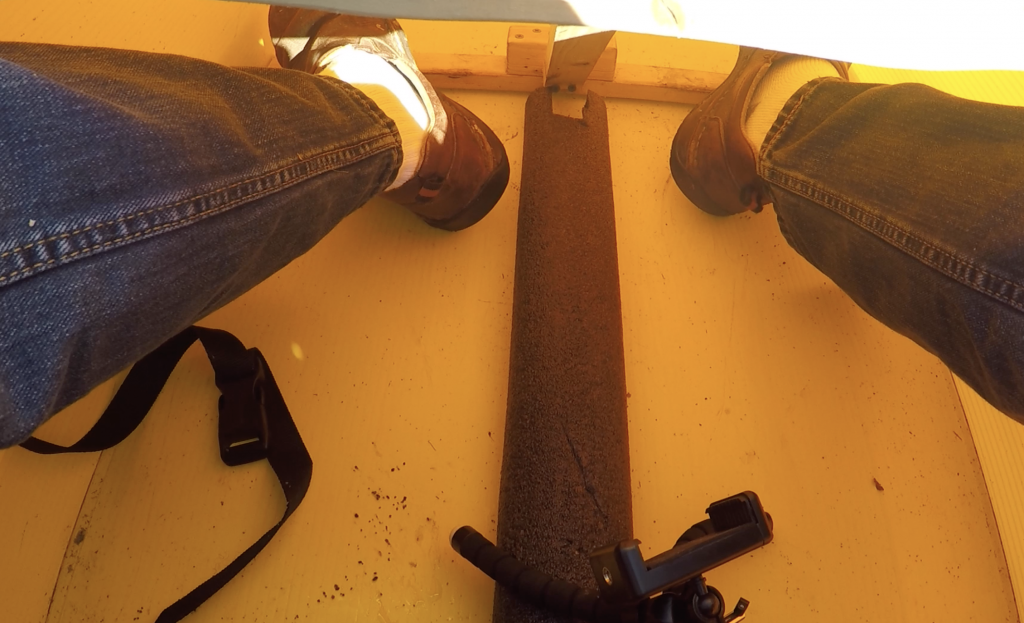 To decrease hull flex on the bottom, I later added a 1×2″ centered-board that runs the lengthen of the flat part of the hull. For extra cushion I added foam pipe insulation.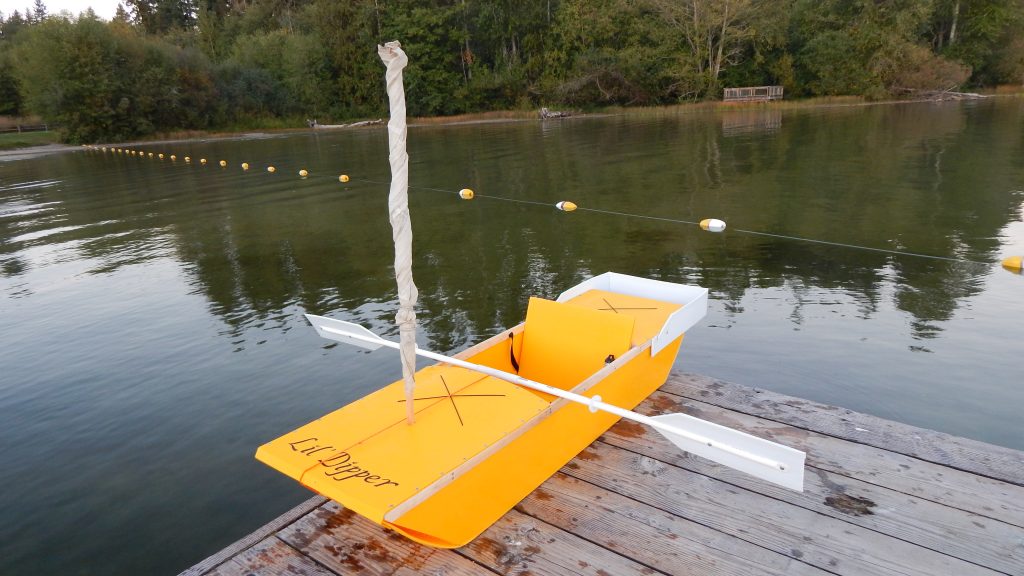 For better tracking I experimented with this fluted plastic swing-down keel. It worked somewhat but slowed the boat down when paddling.
On this day there was no wind to test out the spinnaker.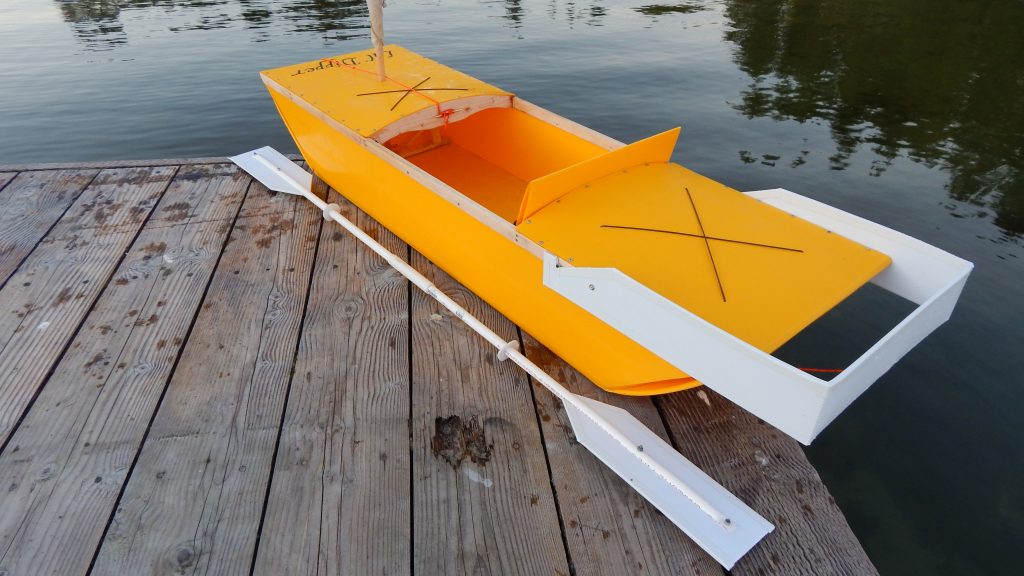 Even without the keel, because the boat is so short and squatty the speeds are not that fast in comparison to a slip stream kayak, so I ended up removing the keel.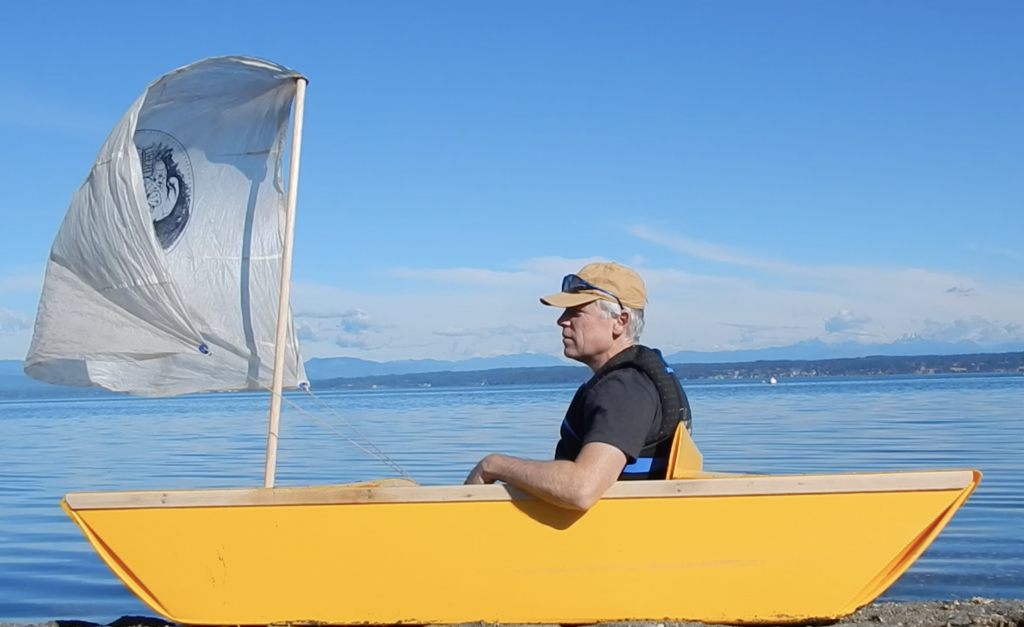 Later I tried the boat out on a somewhat windy day, but without a keel the boat just wandered around. Maybe I shouldn't have thrown the keel away. Oh well.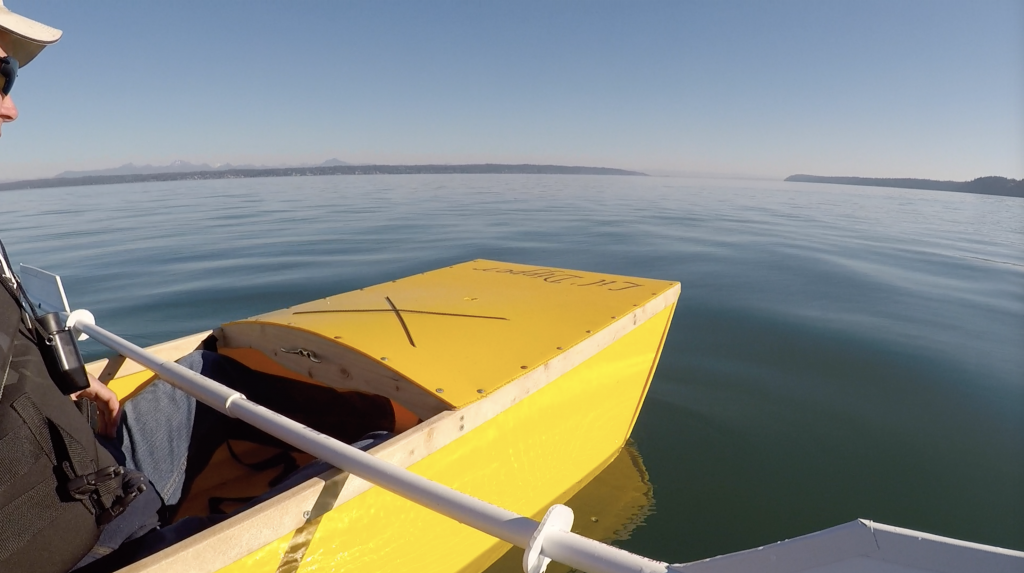 Now that I'm located just 2 blocks from a salt water beach, I've been using this boat quite a bit.
I added a carrying strap which makes it easy to carry. Because of the simplicity of getting this boat on the water, I often favor this boat over my store bought kayak.
On sunny calm days like what's pictured, I enjoy laying down in the boat and taking a nap while listening to the sounds of seagulls and waves lapping on the Lil Dipper.